Ultimate Guide To Choose The Perfect Feedback Management Tool
When you run biz, we are sure you work hard to please your customers, meet their needs, and finally retain their loyalty to your brand. Yet how could you be confident that your efforts will yield the desired results? You may not be able to deliver the finest customer experience unless you do not attempt to figure out whatever your customers reckon about your service. Their feedback on their experiences with your brand is valuable information that you can use to better tailor your business to their needs.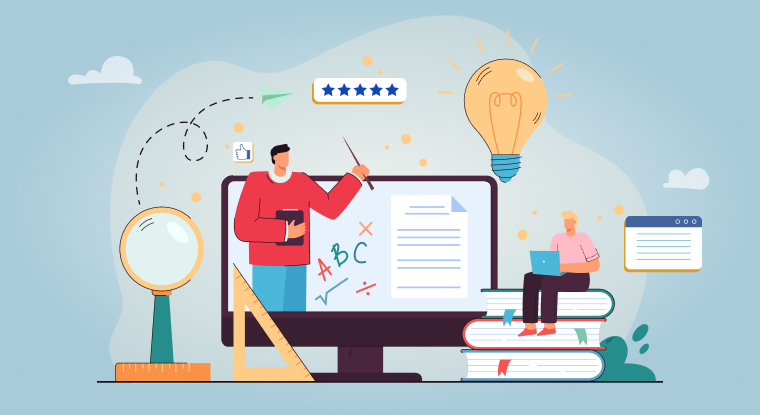 There are numerous ways to capitalize on customer feedback and profit from it. Amongst them, the most simple and reliable method is employing a feedback management tool that can ease the process a lot.
Purpose of a Feedback Management Tool
Gathering customer feedback, whether prompted or unprompted, is essential for monitoring customer satisfaction and loyalty, customer retention, improving products and services, and many other aspects of your business. However, no matter how simple it appears, gathering feedback is a time-consuming and exhausting task. The task can be simplified by using a feedback management tool.
Feedback management tools help businesses optimize and automate the client feedback procedure by offering a centralized platform for requesting, collecting, tracking, and managing feedback on files. Furthermore, these platforms include a project dashboard that allows you to keep a record of all generated feedback.
Most owners of online businesses do not communicate with their customers, and they decide what website upgrades are necessary on their own. This may work for some businesses, but it may result in the loss of a few of those of your existing clients if you do not consider their opinions and feedback.
That is why a feedback management tool is essential. This serves as a channel through which online business owners and webmasters can obtain feedback on how to improve their websites.
A few of the benefits that the feedback management tool offers include:
Gather and handle all feedback in one location.
Clients and reviewers can end up leaving feedback quickly and easily.
The feedback is extremely precise and straightforward.
Creates transparency for all parties involved.
The collaborative effort and interaction are made easier.
When making plans, businesses must consider customer feedback management software. With modern-day technology, an increasing number of people can react to and provide feedback on specific products and services. To ensure that you don't miss out on what people are saying about your company, it's time to look into a feedback management tool.
Features of Feedback Management Tool Include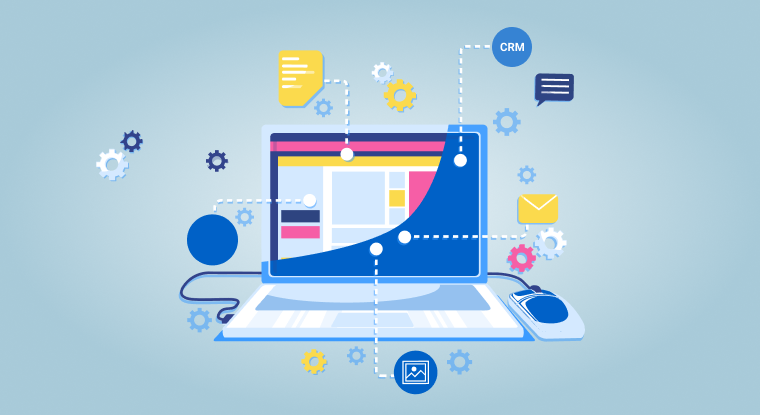 In the long run, a feedback management tool can be your organization's best friend. As a result, look for a feedback management tool that is receptive. Here are some features of a good feedback management tool:
Feedback Survey Software can be integrated with your existing CRM.
It should include pre-designed feedback templates for various scenarios.
It should be intended to include logic in survey questionnaires.
The software should include a variety of question types to keep the survey interesting and engaging.
It should have enough options for sharing surveys via email, SMS, website, and so on.
Also, the surveys should be available online.
You should prefer software that offers incredible automated analysis at full scale.
You should choose a tool that can generate a comprehensive report or graphical presentation with just two clicks.
It is preferable if the analysis tools are available at all levels and to all team members.
Users should be able to download the reports in various formats such as excel, docs, PDF, and so on.
When you need third-party connectivity, you should choose a feedback management tool that provides flexible RestAPI while protecting data with a custom API key.
Customer Feedback Software, FeedbackUp by 500apps is a feedback management tool that can help any business or service achieve breakthroughs in communication and sales. A single platform that converts leads into customers, it is a real-time customer feedback survey software that will amuse and attract your clients with a user-friendly design. Prominent features include:
1. Dashboard with Intuitive Navigation
Keep track of how your OKRs are progressing over time. Keep track of the team's progress and take proactive measures as needed.
2. Management of OKRs
Assist organizations in setting, tracking, and achieving their objectives. It provides a framework for setting and measuring goals, as well as ensuring that everyone is working toward the same goals.
3. Projects are limitless
Allow users to add as many projects as they want to their OKR account. It is an excellent way to keep track of your projects and stay on track.
4. Visualization of Data
Allow you to see a graphical representation of your data, which can aid in the identification of areas for improvement. OKR Reports in One Click: Can obtain a snapshot of Initiatives displaying all dashboard analytics in JPEG, PNG, and PDF format. To download the report, click on the initiative status.
5. OKR Objectives
Provide simple techniques for establishing and tracking goals. With this clear sight of their goals, user progress can be monitored over time.
6. Can be Customized
Implement the necessary modifications to each initiative to ensure that the crucial results are met as planned. Make sure that the key results you plan meet the goal.
FeedbackUp from 500 Apps has much more to offer and that at a competitive price of 39 Apps at 14.99 $ per month.
Here's Points Alike Handybook To Help You Choose The Right Feedback Management Tool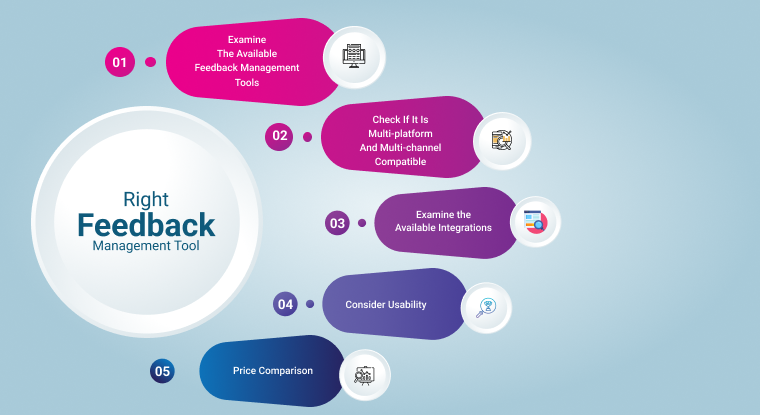 There are many different types of feedback management tools readily obtainable on the internet. It is essential that businesses first assess processes to figure out what tools and features they will require in the feedback management tool. Without a complete sense of what your business requires, you may be unsure as to which application is best for you.
1. Examine The Available Feedback Management Tools
Each Feedback management tool has its own set of customer feedback management system to meet the various needs of businesses. Consider your company's requirements, its type, its audience, its niche, and its size. No software is one-size-fits-all, so compare their features and consider how they will affect your business. Consider CSAT (Customer Satisfaction Survey), NPS (Net Promoter Score), and CES features (Customer Effort Score). These surveys track users' perceptions and experiences with your company's services. The information obtained from them
2. Check If It Is Multi-platform And Multi-channel Compatible
With so many communication channels and platforms available, the feedback management tool must be adaptable and user-friendly enough to reach out to your customers.
3. Examine the Available Integrations
Customized and extensible feedback management tools can provide you with a more comprehensive observation when using the user feedback software. The solution can plug the holes in your requirements and make sure that your requirements are met by allowing you to integrate other third-party applications.
4. Consider Usability
Feedback management tool features and interface must be simple to understand so that you can get results promptly and effectively. This may also reduce the likelihood of facing potential barriers that cause problems along the way. Ending up in the initial move without being able to use it can lead to delays and waste of resources on your part.
5. Price Comparison
Budget constraints are unavoidable for any company seeking the best feedback management system, and pricing varies depending on the type of plan, tools, and services available. Compare prices to determine which are the most cost-effective and the features and tools it provides to determine whether it is worth your money.
Benefits Of Using A Feedback Management Tool
Data gathered through feedback surveys is extremely valuable to organizations because it can be used to gauge customer insights, improve marketing and sales, and strategize future product development. The following are some of the measurable advantages of using a feedback management tool:
1. Enhances The Performance Of Your Business
You can proficiently make adjustments to your website to meet the requirements of your clients if you receive regular feedback from them. Working to improve yourself as a website master or business owner can significantly assist you in succeeding in your business. Feedback is contextual data that provides insight into what is working with your products or services and what needs to be improved to perform well. Unbiased feedback establishes a clear performance expectation. It boasts team confidence to perform even better by focusing on areas that need improvement and aligning business objectives.
2. Means Of Measuring Satisfaction
The satisfaction of business stakeholders, whether consumers or employees, is critical in determining your company's financial performance. Keep in mind that your financial performance is directly related to various benefits such as increased market share, lower costs, and higher ROI. As a result, you must ensure that your customers, employees, clients, and other stakeholders are satisfied with the products and services you provide. The finest way to gather opinions is to conduct surveys with rating-based questions such as Net Promoter Score and Customer Effort Score.
3. Establishes Your Brand
By collecting feedback data regularly through various customer satisfaction survey software, businesses will always have a resource to direct clients in determining the authenticity of a service or product provider.
4. Improves Retention
When clients or employees are satisfied, they are less likely to leave the company, but their dissatisfaction will lead them to your alternatives. When you have reliable data to work on your vulnerabilities, you should be able to improve overall customer satisfaction, resulting in increased revenue. Establish a routine to solicit opinions and feedback regularly so that you can always stay on top of disgruntled customers or employees to find an accurate solution to their problems. This is an excellent strategy for gaining the loyalty of any dissatisfied customer associated with our company.
5. Assists in Staying Relevant
Putting up with the latest trends is difficult for many business owners and website designers. However, they frequently overlook the fact that by receiving and reading customer feedback, they can learn what the trend is in their specific market. Since the majority of consumers want what the trend includes, and by adapting your services and website to what they want, you are obliquely integrating the pattern into your business. This also helps you keep up with your competitors because the majority of feedback is about what your competitors are offering.
Feedback management tool thus aid in the development of your product service roadmap. Championing your blueprint is a simple process if you manage customer feedback properly. Feedback management will inform you what to prioritize first.
Summing It Up
Managing customer feedback survey is a challenge many organizations face daily – especially when dealing with a large amount of feedback, coming from multiple sources and various digital channels. This process can be downright overwhelming. That is unless you employ a feedback management tool. By streamlining feedback data in a way that helps you easily gather, analyze and take action on your feedback, the feedback management tool ensures to get the most out of your feedback.
Know Why FeedbackUp is Best Customer Feedback Software?
#1
Collect and organize product feedback from your users
#4
Allow customers to see and track their suggestions
#5
Project Management Feedback
#7
Next-generation Feedback platform
#8
Real-time Feedback Widgets
#9
Unbelievable pricing - the lowest you will ever find
#10
Everything your business needs - 50 apps, 24/5 support and 99.95% uptime
Join the SaaS Revolution
All-in-One Suite of 50 apps

Unbelievable pricing - $14.99/user

24/5 Chat, Phone and Email Support