8 Best Practices for Effective Customer Feedback Management System
Customer feedback management system is an all-around way to improve products and services. When you get feedback often, you can talk to your customers and find out what they want.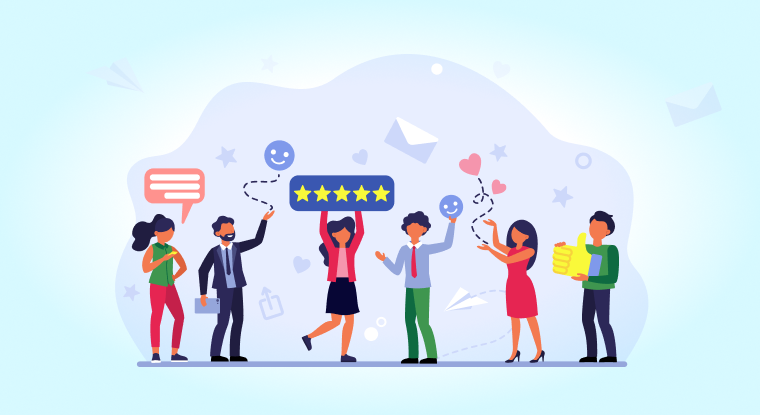 What is Customer Feedback Management System?
Customer feedback management system (CFMS) is the process of combining and using feedback from many different sources to improve your product or service. CFMS breaks your overall feedback management into actionable insights, thereby helping you streamline your efforts.
Why is the Customer Feedback Management System Important?
Customer feedback management system is more than just a way to fix missteps. It is a useful tool that helps you make sure your efforts to improve and the user experience work together to get the result you want. But feedback by itself doesn't mean much. To make progress, you need to link customer feedback to a clear next step. Customer feedback management is the process of getting, organising, and acting on the feedback you get from your customers. It's important to have a plan for getting customer feedback if you survey a lot of customers often.
Best Practices for Customer Feedback Management System
1. Define your Objectives
The goals you set at the start of your feedback process will help you focus your efforts. There are a lot of simple feedback tools out there that are easy to integrate with your support function. Identify what you need. You can get feedback on the whole experience, on a certain touchpoint, or even for new product development. Limit the number of surveys you send out so you don't send too many.
2. Tailor the Feedback Process to your Objectives
The Net Promoter Score (NPS), the Customer Satisfaction Survey (CSAT), and the Customer Effort Score (CES) are three of the best customer survey metrics available today (CES). You have to pick the metric that fits your goals the best. For example, each of the following has a different goal. NPS is an all-around analysis that tells you how likely it is that your customers will tell others about you.
3. Collect Feedback across Multiple Channels
Collecting feedback is incredibly easy these days. Because the internet and social media are so common, surveys are no longer just phone calls. You can use simple tools to turn any platform into a survey channel, from mobile apps to pop-ups to social media. While in-app surveys can help you get more specific about how well an app works.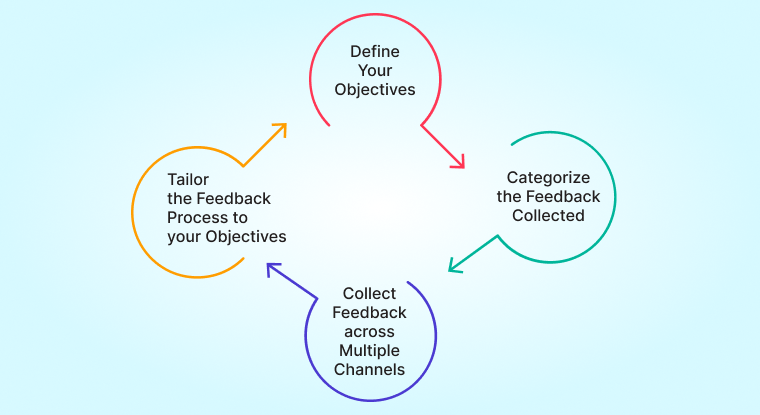 4. Categorize the Feedback Collected
Support Feedback
In 2020, customer service is still the best way to stand out from the competition. There is no secret to giving great customer service. It just takes setting high goals, improvising all the time, and listening to a lot. A recent e-commerce survey found that 33% of customers could leave a brand they love after just one bad experience, while the rest could leave after two or three bad experiences.
Product or User Experience Feedback
Feedback on a product can also be broken down into technical and feature issues. Technical issues could be serious bugs, malfunctions, server problems, or even a small problem with submitting a form. Your product team should fix the technical problems right away since they could be keeping customers from using some of your most important features.
5. Take Action on the Customer Feedback
Most businesses think it's up to them whether or not to follow up with the customers who gave feedback. Whether they gave you good or bad feedback, your customers took the time to do so. Sending an update will not only make your customers feel like you care about them, but it will also encourage them to give feedback in the future.
6. Track Behaviour to Optimize the Feedback Loop
It's important to get feedback on your feedback to see if you're getting the most out of your work. Keep a separate record of when the best time is to get customer feedback, which channel gets the most responses, and which feedback management tool works best for you. If you do too many surveys, customers won't care what you ask them, and if you don't do them often enough, you'll miss out on opportunities. Some companies even look at survey results based on demographics so they can serve people in different time zones.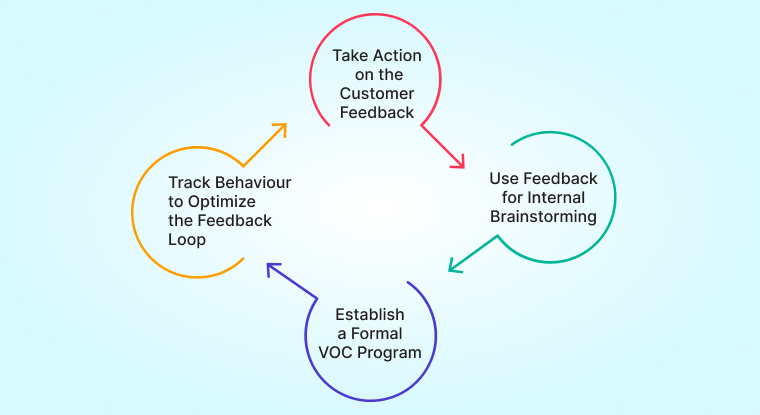 7. Use Feedback for Internal Brainstorming
Customers have wonderful ideas. Every customer's experience is different, and so is the feedback they give. Forget about trends and market research; all the feedback you get from customers is about how to make your product or service better. Using customer feedback to spark ideas within the company will help create a culture that puts the customer first.
8. Establish a Formal VOC Program
Voice of the Customer (VOC) refers to the process of getting feedback from customers, analysing it, and using it to help your business grow. By making a formal VOC programme, the whole feedback system won't be thrown into chaos. It applies to the whole organisation and encourages active participation from people in different departments.
Conclusion
Lastly, don't just thank your customers for their comments. Every time a customer gives you feedback, trade templates for personalised thank-you messages. Tell how things are going. And most importantly, use the feedback to make the experience better.
The software creator, 500apps, believes in helping businesses grow to become Fortune 500. They are creating the future of business growth with their sustainable and agile apps. 500apps handles all the requirements of managing a business and helps employees manage any project or task."
Know Why FeedbackUp is Best Customer Feedback Software?
#1
Collect and organize product feedback from your users
#4
Allow customers to see and track their suggestions
#5
Project Management Feedback
#7
Next-generation Feedback platform
#8
Real-time Feedback Widgets
#9
Unbelievable pricing - the lowest you will ever find
#10
Everything your business needs - 50 apps, 24/5 support and 99.95% uptime
Join the SaaS Revolution
All-in-One Suite of 50 apps

Unbelievable pricing - $14.99/user

24/5 Chat, Phone and Email Support