Why Every Business Needs Customer Feedback Software
Customer feedback is the insights, issues, information, and input shared by an individual or group about their experiences with a company's product or service. The feedback helps empower positive business changes and guides how to improve customer experiences.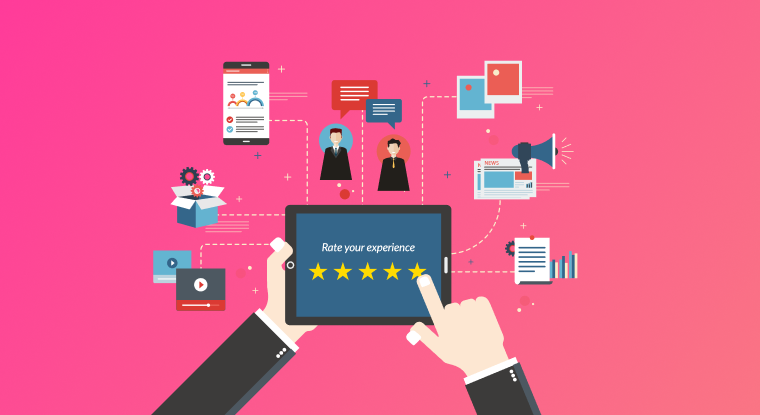 Customer feedback's purpose is to reveal the satisfaction level and help the marketing teams understand what must be improved to enhance the business. Companies collect customer feedback by surveying and polling customers, interviewing them, or requesting reviews. Teams can also collect feedback by providing customers a place in the product or service where they can share complaints, comments, and compliments.
Studies suggest that customers spend 17% more on companies that provide good customer service. Moreover, customer-centric companies are 60% more profitable than those that are not.
A customer feedback management software helps receive, manage, and track customer feedback via different communication channels. Business organizations use the software to gather, categorize, and analyze feedback from multiple sources and improve customer experience, including overall performance.
Why Is Customer Feedback Important?
Companies must understand the role customer feedback plays in business. Customer opinion is a significant resource to improve customer experience and adjust actions according to their needs and preferences. So, if you want to stay ahead in the market competition, listening to customer feedback is a must for your business.
Here Are a Few Reasons Why Customer Feedback Is Important for Businesses
1. It Helps Improve Products and Services
You have an idea about customer needs when you introduce a new product or service in the market. The market research conducted earlier gives you an idea of potential customers who may be willing to buy the items and give you tips to improve them. You can learn about the flaws, advantages, and experience via customer feedback.
2. It Helps You Measure Customer Satisfaction
Customer loyalty and satisfaction determine an organization's financial performance. The process is linked to multiple benefits like lower costs, increased market shares, or higher revenue. Customer feedback is the best way to find out if you meet the customer's expectations. You can rate the satisfaction level depending on multiple sources and predict your company's financial condition.
3. It Shows You Value Customer Opinions
You can communicate that the customer's opinions matter to you by asking them for feedback. You involve the customers in shaping your business to make them feel attached to the company. You can also build stronger relationships with the customers by listening to their voices. The process is the best way to gain brand ambassadors who spread positive word-of-mouth for your company.
4. It Helps You Create the Best Customer Experience
Marketing depends on the experiences individuals have with products and services. The customers want to demonstrate their affiliation and status through purchases. So, if you focus on providing a reliable customer experience at every touchpoint, the customers will stay loyal to your company. So, customer feedback is an effective way to give your customers an amazing experience.
What Are the Benefits of Customer Feedback Software?
Every organization strives to achieve customer satisfaction, and they must learn about customer feedback as it helps the business grow. You can get such information by using customer feedback management software. If you are skeptical about using client feedback software for your business, you can check out the benefits below.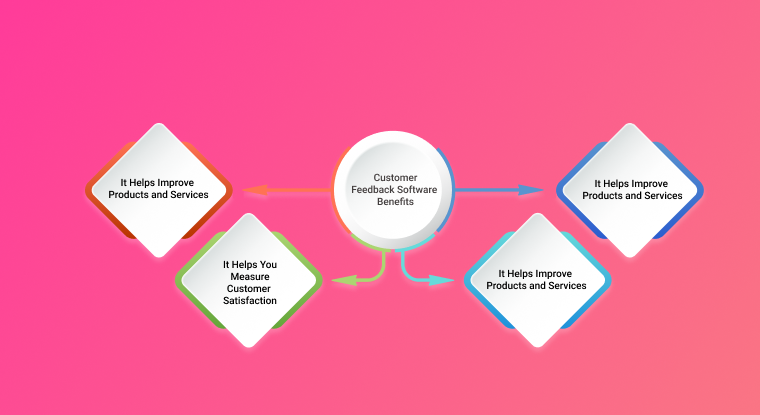 1. It Helps Capture Real-Time Feedback
Customers get exhausted from waiting for their feedback to get collected and analyzed by a company because the next action step may take months to happen. So, user feedback software helps resolve issues quickly and helps customer experience get recognized by executives.
2. It Helps in Effective Service Recovery
When companies react to customer feedback, it helps unhappy customers regain their trust and conduct business again. Customer feedback management system is the best way to provide quick responses to customer problems and issues. The software also helps resolve issues quickly and prevent bad customer views from going public.
3. It Helps Analyze Efficient Information
Customer feedback survey software helps to collect raw data, analyze information, and turn them into significant metrics like graphs, tables, and pie charts. The metrics help companies assess user feedback and responses.
4. It Provides Ranking Reports
Customer feedback management software can rank employees and their details depending on the customer responses. The report also helps identify the areas where the products or services need to get improved.
5. It Is an Inexpensive Option
The software is cost-effective and easy to carry out across organizational systems. The software also helps prevent printing costs, buying paper and pen, and misplacing them. The best part about feedback management tool is that it is flexible and user-friendly.
6. It Improves Credibility
Customers want a portion of the brand to get digitized in current times. So, feedback management system acts as the digital system for a company's branding and helps compare the business with other businesses. Moreover, the software has multiple features that help improve the business's quality and service with a powerful insight into customer responses.
Customer Feedback Software Is an Essential Tool for Businesses of All Sizes
Feedback software helps business organizations collect and analyze customer responses to improve their brand and services. The software works wonders for businesses of all sizes because it helps them analyze customer feedback that has an impact on retention levels and profitability.
Moreover, reports state that businesses that invest in customer experience can double their revenue within 36 months. Customer experience initiatives start through the collection and analysis of customer feedback. Businesses of every size can analyze customer feedback by using techniques provided in the software, like data visualization and text analysis. The process helps the businesses understand the customer pain points, demographic groups, and ways to improve customer experience.
Summing It Up
Customer feedback management software is the best way to track, manage, and analyze customer responses for businesses from multiple channels. The software also helps organizations interact with customers across active channels and solve their problems and issues.
If you are looking for an efficient customer feedback softwares for your business, FeedbackUp is your answer. The software helps collect feedback from the product or service's users and gain insights. The good thing about the application is that it helps organizations identify the client demands quickly and provide the best services.
Know Why FeedbackUp is Best Customer Feedback Software?
#1
Collect and organize product feedback from your users
#4
Allow customers to see and track their suggestions
#5
Project Management Feedback
#7
Next-generation Feedback platform
#8
Real-time Feedback Widgets
#9
Unbelievable pricing - the lowest you will ever find
#10
Everything your business needs - 50 apps, 24/5 support and 99.95% uptime
Join the SaaS Revolution
All-in-One Suite of 50 apps

Unbelievable pricing - $14.99/user

24/5 Chat, Phone and Email Support